Ignite the Marketplace – Firestarter School
Prepare to Ignite the Marketplace!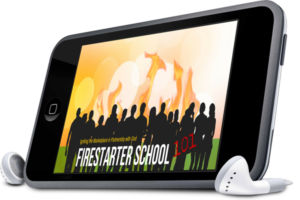 Entrepreneurship can be hard.
The amazing news is that if Christ is in you, you have access to peace, joy, wisdom, favor, and creativity which are tremendous assets for building and growing a thriving business.  You have the Holy Spirit to lead and guide you!
The ongoing struggle is that doing business God's way looks different from the traditional ways of the world, and it is easy to fall back into the way everyone else who seems to be experiencing success is doing things. You may also experience doubts that you're truly hearing the voice of God when it comes to your business. The result?  Instability, stagnation, and frustration!
We've put together an e-course called Firestarter School to walk you through several key foundations that will help you to confidently partner with God at greater levels in your business and position you to experience His best and make a greater impact for the Kingdom in the marketplace.
Right now you can get the first five lesson modules for free. We call this Firestarter School 101. These 5 lesson modules provide practical teaching and recommended actions to apply the lesson in your business.  The lessons, which are led by KDE's Chief Fire Igniter Shae Bynes, are delivered via text and mp3 audio so regardless of whether you're a visual or an audio learner, you're covered!
Here's what you're going to learn:
Module 1: The Heart of a Kingdom Driven Entrepreneur
Module 2: God's Role as Ultimate CEO
Module 3: Your Role as a Minister in the Marketplace
Module 4: Promoting Your Business God's Way
Module 5: The Kingdom Driven Business Success Formula
When you sign up below, you'll gain immediate access to our Firestarter School 101 mini-course with 5 modules that will help you towards your goal of creating a LIFESTYLE of being led by God in the work you do in the marketplace.
---
Simply enter your first name and e-mail address and click the GET ACCESS button